Toledo Zoo Tickets
Adults: $18.00
Children: $15.00
Children under 2 get in FREE
Cedar Point
Username: UTFCU
Password: utfcu
Adults: $50.00
Children: $45.00
Cedar Point Shores: $34.00
Cinemark Theaters
Only $9.50 and available all year!
Junior popcorn & small drink – $7.00
FoodieCards
Only $20.00!
FoodieCards feature over 50 of the best local restaurants. Each card is worth $10.00 off your order.* Purchase at any of our three offices.
*Minimum purchase required
Kings Island Tickets
Adults: $39.00
Child & Senior: $35.00
Visit this website to purchase tickets.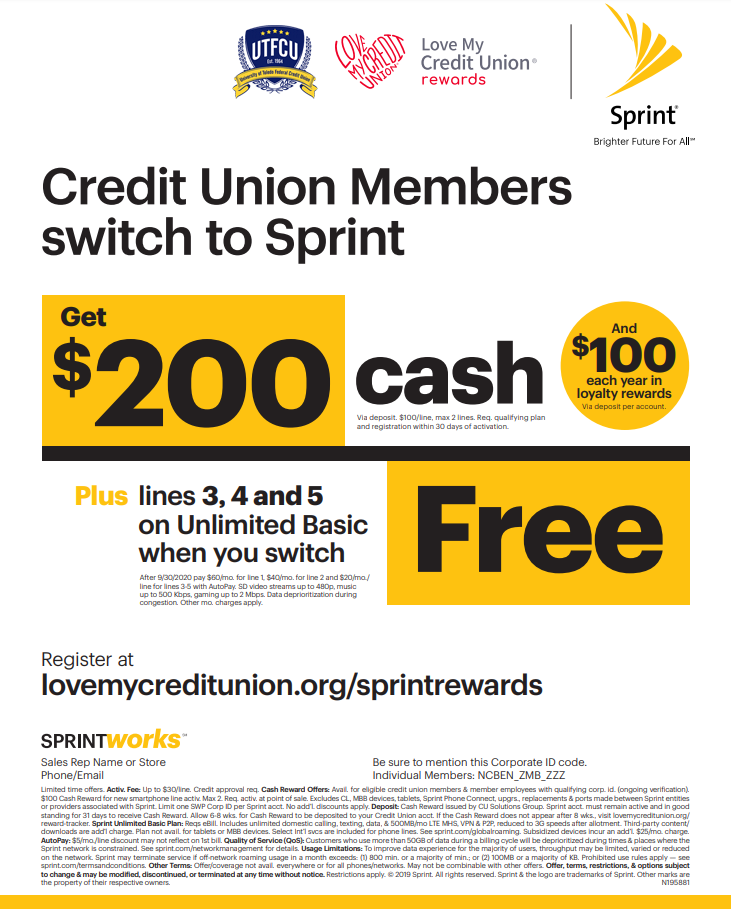 SWITCH TO SPRINT AND EARN $200!
Credit union members get $100 per line in cash rewards for every new line activated with Sprint® (max 2 lines). Plus, lines 3, 4 and 5 on Unlimited basic are free when you switch.
Sign up today to enjoy the benefits of credit union membership with Sprint's best Credit Union Member Cash Rewards offer EVER!
Add a line to your new or existing Sprint account and mention you're a credit union member.
Click Here to register
Cash rewards will be directly deposited into your credit union account within six to eight weeks.
Already a Sprint customer?
Register now to receive a $100 loyalty cash reward every year starting one year after registration.
Get Cash Rewards
Take advantage of this limited time offer today!